Discussion Starter
·
#1
·
Well I got tired of reading all the range test so decided to do one of my own on a toy I have here.
This is an East German AK-22 select fire trainer.
I found it in a conex box here in sad shape and missing the magazine. After stripping and cleaning a local contact said that if I supplied him with an AK mag he could have a .22 mag made for it. Well a couple of weeks and $50.00 later he showed up with it.
The rifle itself I assume is East German because of the stock with the brown pebble texture. The only markings are on the selector with "C" on full auto and "S" on semi. On the left side of the rear sight base is a K in circle, 1175, a circle with a triangle, and the serial number. All controls are standard AK.
Now before someone jumps up and down and says that it is not an East German but a Swiss copy of a German, Lebanese design I dont care. If you know what it is tell me great I am again only assuming it is East German because of the stock.
Ammo for this testing is 40 grain lead Target .22 ammo made in Bosnia and Herzegovina and states on the box that it gives target accuracy and good performance. This ammo was given to me by the former SF team that was stationed here in case I ever found something to shoot it out of.
Ok now for the specifics of the day.
Weather: Fantastic! One of those days where you forget where you are until the call to prayer starts. Temp 70's, Humidity none to speak of, clear skies, no wind.
Range: 25 meters from bench to target stand. First two groups fired supported from the bench as best I could working around that damn long mag.
Target: Standard playing cards. In this case a 10, 5 and a jack.
Group #1
First seven rounds went slightly right but in a good group. Readjusted POA to the left and fired the last three in a tight group.
Group #2
POA is the center heart, as best as I could see it, Eight rounds in a tight cluster two flyers, I got a little quick on the trigger.
Group #3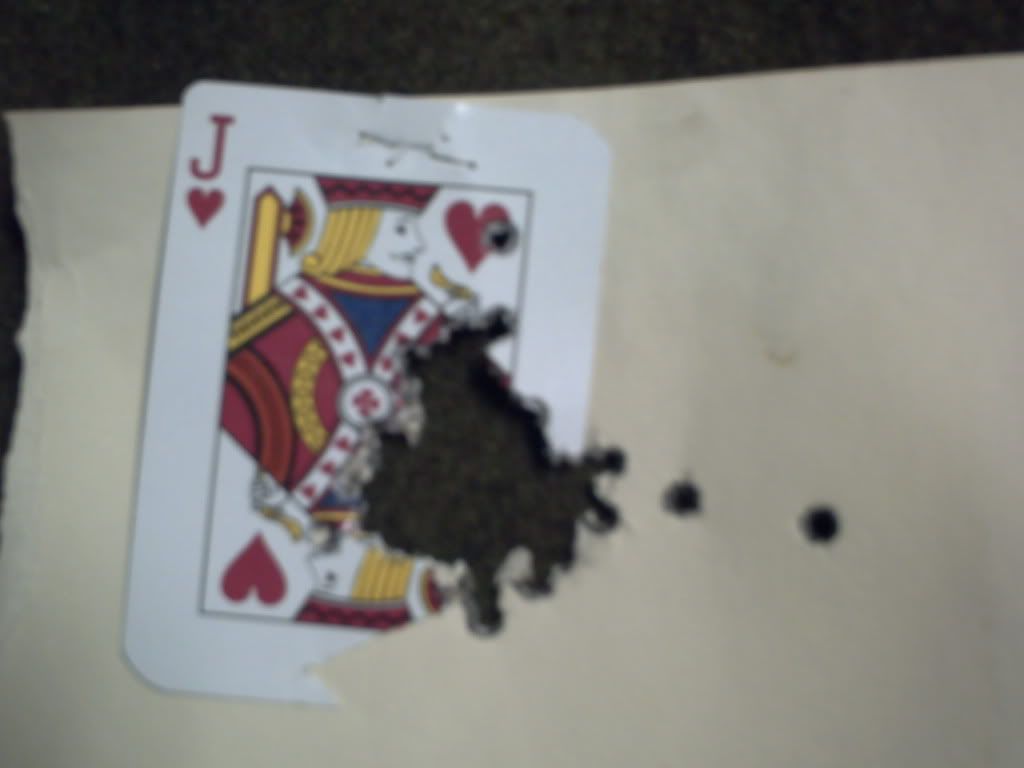 This time was away from the bench. This is 100 rounds from offhand, supported offhand, kneeling, prone and rollover prone. This damn little rifle can shoot. POA is still center and I will eventually move the sight over to the left.
Overall the rifle worked very well. Had a couple of FTE when it started getting really dirty. The advantage to this rifle is if a casing gets stuck in an out of the way place or you want to lube it up again pop the top cover and there are all the internals.
I do not clean the barrels of my .22's everytime I shoot them. I allow them to lead themselves up a bit. The action is cleaned but I will shoot 200-400 rounds before I scrub the barrel this just depends on conditions, type of ammo and so on because I know that once the barrel is cleaned will have to fire a few rounds to lead it up again before I get back to that same POA/POI that I had before.
Well hope you enjoyed the report. If anyone does know what this thing is or has seen one let me know.
Take care. Out from the sandbox.