I posted this at another forum a little while back, so I apologize to those who may have already seen it. Just thought it may be of interest here as well (really, I'm just trying to keep up with Skypup-LOL). The purpose of this test was to determine the accuracy of the Sig Sauer 556 DMR using increasing bullet lengths. A range of information can be found regarding the accuracy and ammunition (bullet weight) preference of this weapon system. This question arises due to the 1 in 10" twist rate of the 21" barrel, which may not be capable of handling longer (heavier) bullets. I therefore decided to determine for myself how my DMR performed.
Equipment
Weapon: Sig 556 DMR, 21" heavy barrel with a 1 in 10" twist rate, aluminum Quadrail foregrip, Magpul PMAG 30 MAGLEVEL magazines (Figure 1)
Optic: Nightforce NXS 3.5-15 x 50 (F2), Zero Stop, Mil-Radian turrets, MLR reticle
(setting = 15X)
Optic Mount: LaRue Tactical SPR/M4 1.93" QD (LT-135)
Benchrest: Caldwell Lead Sled Solo with 25 lb. weight bag

Figure 1. Sig 556 DMR weapon system.Barrel Break-in
Prior to range testing, the DMR was put through a barrel break-in procedure using 200 rounds (total) Black Hills 52 gr BTHP Match ammunition as follows:
1) 5 x 1 rounds; after each round, the barrel was cleaned with 10 patches soaked in Bore Tech Cu+2 Copper Remover, followed by 3 dry patches. The barrel was then treated with 3 patches soaked in Kano Kroil Penetrating Solvent, followed by 3 dry patches.
2) 5 x 3 rounds; each group of 3 rounds followed by the above cleaning procedure.
3) 5 x 10 rounds; each group of 10 rounds followed by the above cleaning procedure.
4) 2 x 25 rounds; each group of 25 rounds followed by the above cleaning procedure.
5) 1 x 30 rounds; followed by the above cleaning procedure.
6) 1 x 50 rounds; followed by the above cleaning procedure.
After the break-in procedure, the weapon was cleaned using a nylon bore brush and patches with Hoppe's 9 solvent, and lubricated with Hoppe's Elite gun oil prior to storage.
Ammunition Test
To carry out this test, I fired 20 rounds of each type of ammunition listed in the table below on semi-automatic setting (the DMR is also capable of non-cycling single shot fire). For each type of ammunition, I fired 5 shots at a range of 100 yds to sight in the weapon. I then fired 3 groups of 5 shots, allowing the barrel to cool several minutes in between groups. After each type of ammunition, the barrel was cleaned and lubricated with Hoppe's 9 solvent and Elite gun oil prior to testing the next ammunition. A benchrest was employed to minimize the effect of operator skill (or lack thereof) during the test.
For each ammunition, I determined the maximum hole spacing for each 5 shot group (measured center to center). The three group spacings were then used to determine the mean ± standard deviation (SD, n = 3) for each type of ammunition. "Flyers" (and there were a few) were not eliminated from any group measurement. I also shot the Hornady 55 gr SP each of the three days as a "control" to assess variation between days.
Weather Conditions
Day 1 Day 2 Day 3
Temperature: ~87 °F ~ 90 ° ~ 90 °
Wind: N, 3-5 mph N, 5-8 mph N, 3-5 mph
Altitude: 1095 ft 1095 ft 1095 ft
Barometric pressure: 30.12 R 29.92 R 28.84 R
Results
The individual 5 shot group data as measured in inches and mean for 3 groups ± SD are shown Table I. The velocity data shown are from the manufacturer, not chronographed from the DMR (I didn't have a Chrony at the time). Also shown are the mean values ± SD following conversion to MOA (÷ by 1.0472). Based on these data, there was not a dramatic trend with regard to bullet length and accuracy in the Sig 556 DMR. In the most liberal (I apologize for using the "L" word when talkin' rifles) estimation, the DMR accuracy generally improved as bullet length increased. However, the results obtained with Hornady 55 gr SP ran counter to that notion. What can be stated with reasonable certainty is that this weapon is capable of ~1.0 MOA accuracy at 100 yd. It should be noted that there were frequently "flyer" rounds in some of the groups. Whether this was due to the load or the operator is unclear. However, if these "flyers" were not counted, the accuracy of this weapon system would be solidly in the sub-MOA range.
Because the 21" barrel 1 in 10" twist rate of the Sig 556 DMR might be expected to handle longer (heavier) bullets poorly, it was surprising to find that the two of the better groupings were achieved using 77 gr loads. These results are unlikely to be an artifact as 4 different 77gr loads (Black Hills, Federal, Remington, Silver State Armory) fell in the 1.0 to 1.2 MOA range. The next closest loads in accuracy were the Hornady 55 gr SP and Black Hills 68 gr. This was also somewhat surprising in that I fully expected fate to dictate that the most accurate load(s) in my hands would also be the most expensive. Costing under $30.00 per box of 50 rounds, the Hornady 55 gr SP was the least expensive of any of the SP or HP ammunition used in this test (ie. good plinkin' ammo).
The least accurate groups were obtained using Federal XM193 FMJ, Fiochi 62 gr FMJ, and Black Hills 75 gr. None of these loads were able to produce an average grouping of less than 2.2 MOA.
Table I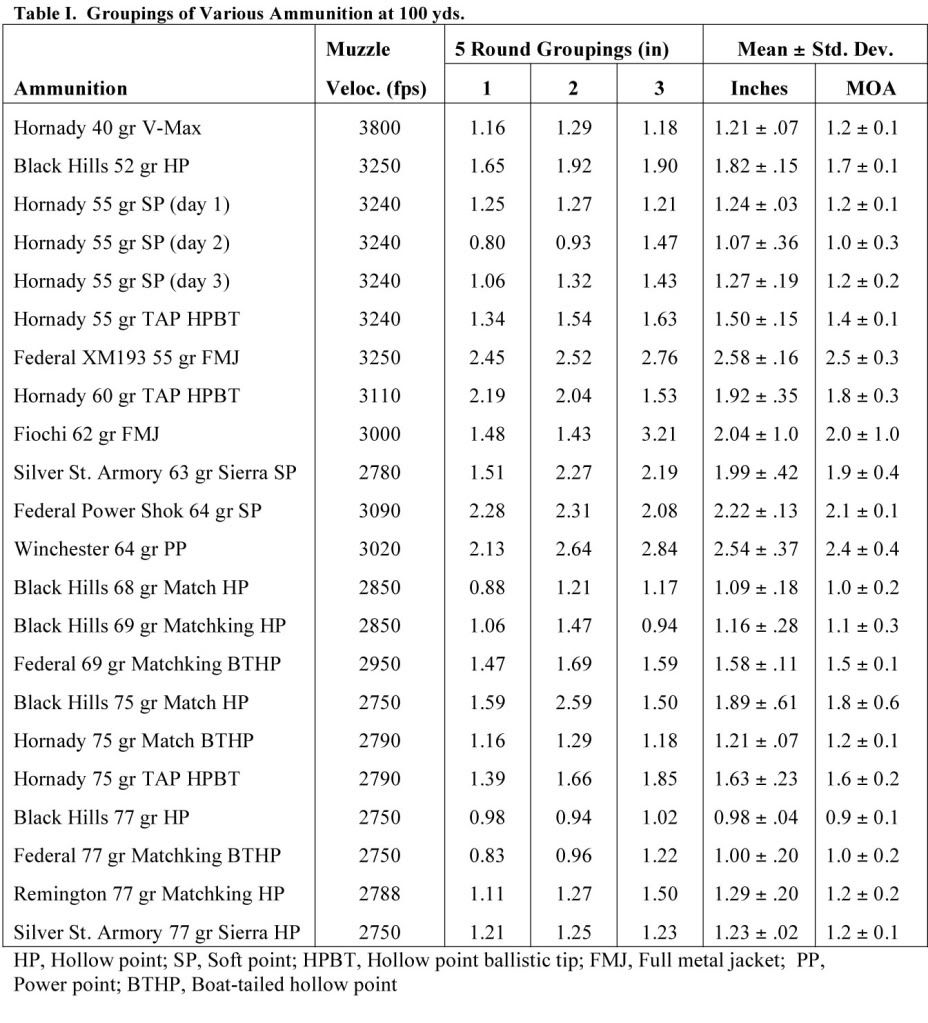 As an example of some of the groupings listed numerically in Table I, selected target images from the 100 yd test including the best single group, the worst single group, and the best 77 gr group are shown below in Figure 2.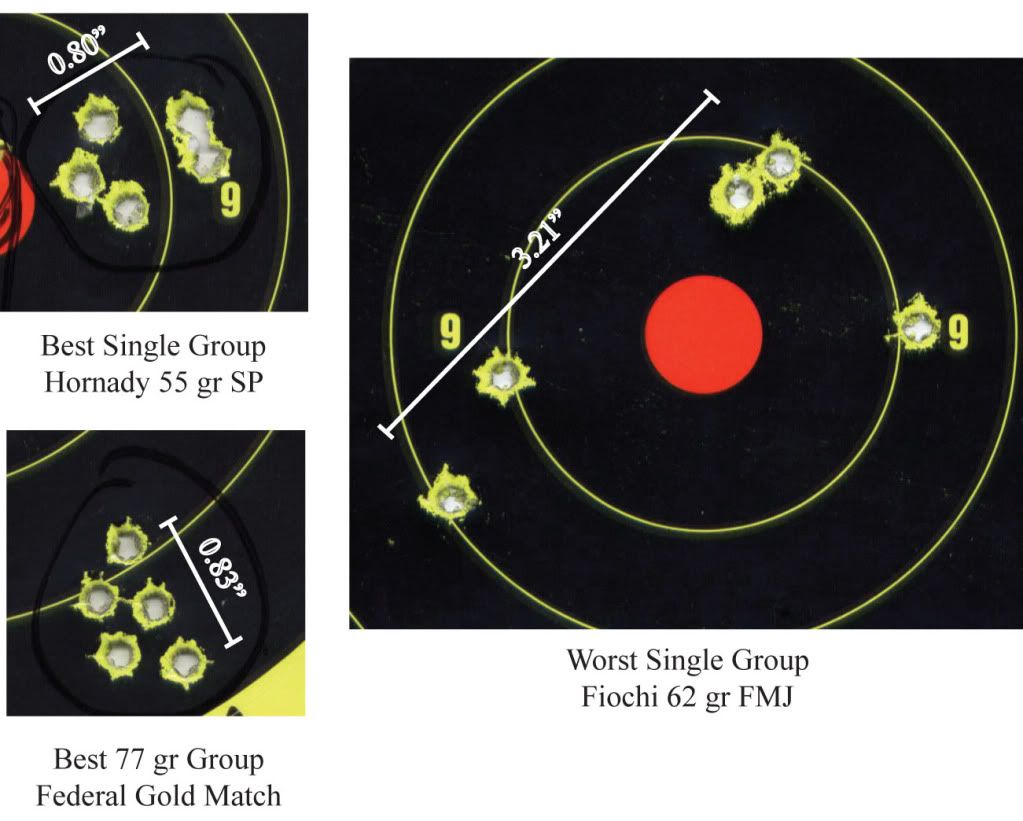 Figure 2. Selected Single Group Images.
In addition, for those (such as myself) more inclined toward pictures than text, I have also included the MOA data from Table I in a graphical format (Mean MOA +/- Std. Dev.) as shown in Figure 3. Most notable from this graph is the general indication that accuracy with the DMR is improved using bullet weights (lengths) of less than ~60 gr or greater than 64 gr. Based on the 1 in 10" twist rate, I had guessed prior to testing that optimal accuracy would be obtained from loads in the mid 60 gr range. Surprisingly, the 60 to 64 gr loads were among the least accurate of all the ammunition tested, validating the notion that an actual range test can be significantly more valuable than a prediction based on a specific twist rate. Had I not tested the various ammunition, I might have only tried the 60 to 64 gr loads and concluded that the DMR was inherently inaccurate.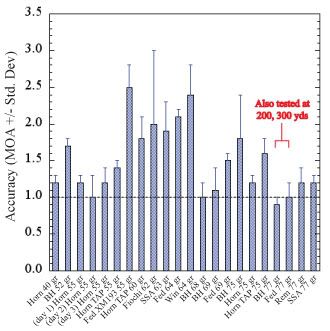 Figure 3. Graphical representation of Sig 556 DMR accuracy with various ammunition.
In light of the somewhat unexpected results with regard to bullet length and accuracy, the next phase of this experiment was to conduct the same test at 200 yd and 300 yd distance using the 2 most accurate heavy loads as determined above (Black Hills 77 gr, Federal 77 gr ). The rationale for this test was that 100 yd may not have been sufficient distance for the low spin rate imparted by the 1 in 10" twist barrel to adversely affect stability of longer bullets. Therefore, accuracy was determined at longer ranges to assess whether the Sig 556 DMR was still capable of stabilizing these longer bullets.
As shown in Table II, the 556 DMR appeared fully capable of stabilizing these rounds effectively out to 300 yd. In fact, 2 out of 3 groups using the Federal 77 gr at 300 yds had 3 of the 5 shots within a spacing of less than 1 inch. Therefore, if the flyers had not been included, this would place the DMR accuracy close to 0.3 MOA. The same was true for the 200 yd groups. How much of this was due to the shooter is unclear at this point. It will be interesting in the future to conduct a similar test while clocking the muzzle velocity of the rounds, to see whether any "flyer" correlate with abnormal muzzle velocity compared to other rounds. What is clear is from this test is that the DMR can effectively stabilize loads up to 77 gr at ranges out to 300 yd, while maintaining close to 1.0 MOA accuracy. Further testing with these loads at 400 and 600 yd will be carried out at a future date.
Table II. Groupings for Black Hills and Federal 77 gr Ammunition at 200 and 300 yds.
Finally, what I predicted (but hoped wouldn't come true) at the outset of this test came to pass. With the Federal Gold Match 77 gr getting the nod as best overall ammo in the DMR, it was the most expensive (~$1.53 per round). Oh well, I had a lot of fun doing this test, so it was worth every penny. Further, if I decide to get into the reloading end of things, I now have a much better idea of where to start for creating custom loads optimized for the DMR.
As an update to this report, I have tested Black Hills 77 gr ammunition at 400 yd, and the groups started to open up slightly (average was 1.5 +/- 0.3 MOA). I am undecided as yet whether this means that as the range increases, accuracy will drop off as stability decreases due to sub-optimal twist rate. Unfortunately, while cleaning the DMR after the 400 yd session, I dropped and accidentally stepped on the gas tube. This caused a catastrophic failure in said part, on which I am currently awaiting to be repaired). Pretty bad mistake on my part. In any event, I will post more data from 400-600 yd after the repair is completed.